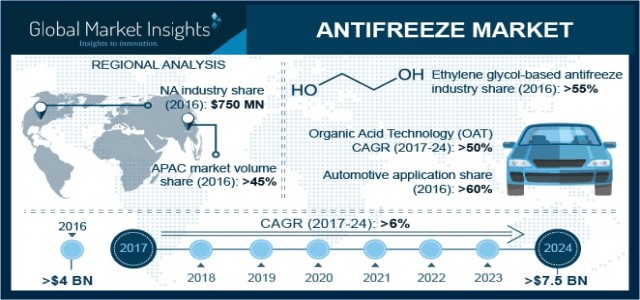 Antifreeze Market is likely to surpass USD 7.5 billion by 2024. Regarded as one of the major antifreeze market players based in the U.S., Prestone has recently introduced an all-new range of antifreeze products specifically designed for Asian and European made cars. The latest coolants are reportedly developed in a way to fight corrosion by utilizing unique formulas that are particular to the specifications required by automotive manufacturers.
The new line consists of three special coolants: the first one has been developed to cater vehicles of Nissan and Honda, the second range aims to serve Scion, Hyundai, Toyota, Kia, Lexus, and Subaru cars, and the third one is best suited to European brands including Audi, Volkswagen, Mercedes, Volvo, and BMW. With the launch of such an expansive and all-encompassing range of antifreeze products, Prestone has undoubtedly acquired a prominent place in the U.S. antifreeze industry.
Request sample copy of this report @ https://www.gminsights.com/request-sample/detail/2203

In its persistent efforts to transform the antifreeze market dynamics, Exol has recently announced a new range of coolants aimed at covering passenger and heavy-duty vehicle applications. As has been reported, the latest antifreeze comprises a comprehensive variety of additives that are said to possess unique features that assist these coolants to provide year-round protection to various types of vehicles.
Developed in response to the ever-evolving technological alterations impacting cooling systems of modern vehicles, the product range has been formulated on OAT inhibitor technology to ensure an extended operational life of coolants. The latest range of coolants, which includes Antifreeze OAT Universal (Clear), Antifreeze HD (Green), Antifreeze SOAT (Lilac), and Antifreeze HDX (Blue), is slated to strengthen the UK's largest lubricant manufacturing firm's foothold in the overall antifreeze industry over the ensuing years.

With an enormous growth in the number of commercial vehicles, the requirement for nitrite-free engine antifreeze formulations has peaked in the recent times. The launch of Shell Rotella ELC Correction Fluid by the leading antifreeze market player Shell Lubricants highlights the rising prominence of nitrite-free engine coolants.
Browse Complete Summary of this report @ https://www.gminsights.com/industry-analysis/antifreeze-market
Reportedly, the latest product has been formulated to recondition corrosion inhibitor additive levels in antifreeze to suitable levels which would further help in protecting aluminum components in the vehicles. Moreover, the new fluid can be utilized to convert cooling systems from fully formulated conventional coolant to Shell Rotella ELC technology without refilling or draining the entire system. Needless to mention, the shifting focus of product manufacturers toward customer-centric demands is anticipated to spur the growth potential of antifreeze industry in the forthcoming years.
Owing to the ever-increasing R&D initiatives by prominent product manufacturers to unleash an assortment of products with advanced features, antifreeze market has indeed earned a rather significant popularity across the rapidly expanding automotive sector. Numerous automakers have been relying upon antifreeze, which is colloquially known as a coolant, to maintain and enhance the overall engine performance of the vehicles.
Furthermore, it has been observed that the global automotive industry has been fine-tuning various coolant specifications for different types of engine applications. It would be prudent to mention that the cooling system of automobiles is predominantly based on the atmospheric temperature – a fact that underlines the significance of antifreeze which not only prevents scale formation and corrosion in the engine but also assists in improving its heat transfer capability. Apparently, the rising popularity of engine cooling products across the automotive sector has turned out to be rather advantageous for antifreeze market share augmentation.
Make an inquiry for purchasing this report @ https://www.gminsights.com/inquiry-before-buying/2203
Considering the aforementioned aspects, it is quite interesting to take note of the fact that almost every major antifreeze market player has willingly adopted the OAT technology, in order to meet the burgeoning product requirement from the automobile sector. As a consequence, this trend has favorably influenced the antifreeze industry outlook. Moreover, some of the most distinguished giants in the antifreeze industry, which includes the likes of Exxon Mobil Corporation, Castrol, Ashland Inc., PETRONAS, Royal Dutch Shell, BASF SE, Chevron Philips Chemical Co, and Sinopec Corporation, have been investing substantially in strengthening their product portfolio in this highly consolidated business space. Driven by this dynamically charged competitive landscape and a slew of product upgradations in pipeline, the global antifreeze market share is slated to exceed a total valuation of USD 7.5 billion by 2024.