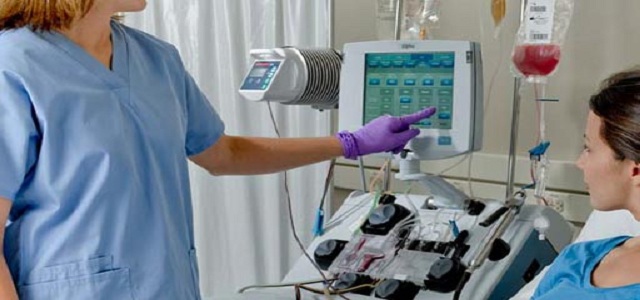 Apheresis Equipment Devices Market size is anticipated to witness significant growth of around 11.4% CAGR from 2016 to 2024.
Wide application of apheresis procedures such as collection of fresh frozen plasma of ABO blood group and rare WBC and RBC will drive the expansion of the industry. Apheresis equipment are also used for diagnosing blood disorders such as PMN,sickle cell crises or severe malaria, promoting the utilization of apheresis equipments. Furthermore, rising demand of apheresis procedure for immunoglobulin products and plasma derivatives will also stimulate the business growth.
Rising number of casualties like road accidents and riots requires immediate response through surgeries. Utilization of apheresis equipments to collect or donate specific blood components during surgery procedure should stimulate the growth of the market.Furthermore, increase in demand for apheresis equipment due to growing awareness among people also attributes in stimulating the industrial expansion.
Request for a sample of this research report - https://www.gminsights.com/request-sample/detail/847
Prevalence in the number of lymphomas in certain countries such as U.S. encourages the growth of the market. According to Leukemia and Lymphoma Society, 172,910 people of the country's total population are estimated to be diagnosed with leukemia, lymphoma or myeloma in 2017.Rising demand for plasma and platelets in treatment and therapy purposes using apheresis equipments will augment the industry significantly.
Advancement in technology coupled with several initiatives taken by the government will also drive the market. Several initiatives undertaken by organizations like International Federation of Blood Donor Organizations and World Blood Bank that organizes blood donation campaigns, also attributes in the utilization of apheresis equipment.Furthermore, initiative by Donating Plasma that organizes International Plasma Awareness Week to spread awareness regarding importance of plasma donation and plasma protein therapies will also propel the business growth. However, lack of skilled professionals and difficulties related with the apheresis procedure are expected to hamper the market growth.
Growing popularity of disposable apheresis kit owing to its low cost attributed in its dominance by accounting 78% market share in 2015. Furthermore, disposable apheresis kit offers several advantages such as elimination of contamination due to its fully enclosed system and also avoids risks of acquiring infections from blood-contaminated tubes. These advantages stimulate the demand for these kits in the market.
Rising prevalence in neurological disorders like GBS, autoimmune disorders and sclerosis increased the demand for apheresis procedures. Growing adoption of apheresis equipments pertaining to its low cost, safe and efficacy should drive the market. Neurological apheresis equipment held 50% of the market share accounting USD 863 million, in 2015, and is anticipated to grow at 12.3% CAGR over the foreseeable future.
Browse Full Report @ https://www.gminsights.com/industry-analysis/apheresis-equipment-market
Centrifugal apheresis is growing at a lucrative rate and is expected to follow a similar trend over the forecast period. Centrifugal apheresis devices are capable of performing cytapheresis and do not require heparin and thus is considered as an efficient method for removal of plasma components.
Increasing popularity of plasmapheresis owing its wide application against rising cardiovascular diseases, clotting factor, immunoglobulin or IVIG, alpha-1 antitrypsinalbumin, hyperimmunoglobulin and in-plasma derived therapies has stimulated the growth of the industry. Plasmapheresis being equipped with several advantages like removal of immunoglobulins, centrifugation and plasma filtration will drive the market at a lucrative pace.
U.S. held the largest regional share of 87%, in 2015, and is projected to surpass USD 1,524 million by 2024, owing to escalatedincidences of lymphomas and high demand for component separation devices. Furthermore, favorable reimbursement policies by Medicare and enhanced access to superior healthcare will also boost in the industrial expansion.
Increasing occurrence of blood disorders, developing healthcare infrastructure and rising number of doctors in emerging countries like China drives the Chinese market. China is expected to grow at a lucrative rate over the forecast period owing to its large geriatric population, rising healthcare expenditure and patient pool.
The apheresis equipment market is dominated by Cerus Corporation, Terumo, B. Braun Melsungen, Haemonetics and Fresenius Kabi. Several strategic partnerships, mergers and acquisitions have made the industry oligopolistic in nature. In July 2018, Haemonetics announced 510k clearance of its NexSys PC plasmapheresis system by FDA. The system is designed to improve quality, efficient productivity suitable at plasma collection centers. This move will help in accelerating company's revenue growth, owing to increased product portfolio.