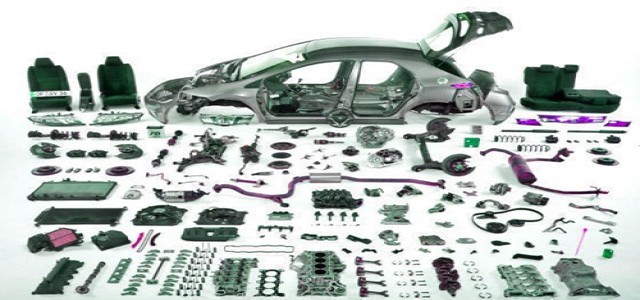 Automotive Aftermarket Industry in APAC is expected to witness over 6% gains up to 2024. This growth is credited to the increasing consumer preference for incorporating high performance and aesthetic features in their vehicles. Further, increasing vehicle sales across the region owing to the presence of major automobile manufacturers including Hyundai, Toyota, and Suzuki, among others offering wide range of vehicles at varying price point are positively influencing the market growth till 2024. Increasing aftermarket parts exports from the U.S. to South Korea is providing a positive outlook for the industry expansion.
Request for a Sample Copy of this Research Report @ https://www.gminsights.com/request-sample/detail/1166
Accessories segment is projected to witness significant growth of around 7% over the projected time frame. This growth is attributed to the rising demand for vehicle customization across the globe. Availability of a wide range of accessories for enhancing the core aesthetics is supporting the segment growth over the projected time frame. The proliferating accessory packages offered as per the consumer requirements along with diversified interior modifying alternatives will enhance the automotive aftermarket industry business expansion.
The increasing preference of customers to opt for base models of vehicles and upgrade with technologically advanced equipment is supporting the industry proliferation. Incorporation of the latest technology into the product portfolio including ADAS systems, electrical components among others, increases the requirement for periodic upgradation and maintenance of these components for optimum performance, strengthening the automotive aftermarket expansion till 2024.
Supporting government regulations for mandatory compliance of automotive aftermarket industry parts and components prior to commercialization is proliferating the business share over the forecast timeframe. For instance, the European legislation mandates the CE certification of all electronic components to be equipped in cars along with mandatory testing and approval requirements, supporting the market growth till 2024.
Rising necessity for maintenance and periodic servicing of vehicles to maintain their performance and efficiency is driving the automotive aftermarket growth over the forecast timeframe. Increasing innovations along with rising competition is enabling industry participants to continuously invest in R&D for introducing low cost reliable solutions to attract customers.
Make an Inquiry for purchasing this Report @ https://www.gminsights.com/inquiry-before-buying/1166
Minimal replacement and repair cost are one of the major factors driving the market development in the DIY segment. Growing consumer awareness pertaining to the online upkeep tutorials is one of the key factors driving market growth. Additionally, ease in operations and widespread availability of replacement parts and components such as changing tires, oil, and mirrors with minimum application and handling of tools, are fueling the do it yourself sales outlet market.
North America automotive aftermarket industry accounted for over 30% revenue share in 2017. This can be credited to the increasing new vehicles production coupled with enhanced performance of old vehicles. Ongoing technological innovation in the automotive sector will create new opportunities for aftermarket companies to grow globally. Increasing customization of vehicles, digitization, demand for Bluetooth devices, and other accessories driving automotive aftermarket industry in the U.S. and Canada. Improved fuel economy likely to increase the average miles driven by a customer. This has led to more wear and tear in vehicle parts, thus augmenting the demand for automotive aftermarket industry products.
Browse Full Report @ https://www.gminsights.com/industry-analysis/automotive-aftermarket
Few key players in the automotive aftermarket include Magna International, 3M Company, Lear Corp., Yazaki, ALCO Filters, Denso Corporation and Continental AG. Other key players include Akebone Brake Corporation, Magneti Marelli, and Copper Tire & Rubber Company. Strategic collaborations and partnerships are among the major strategies adopted by industry participants for increasing their market share.