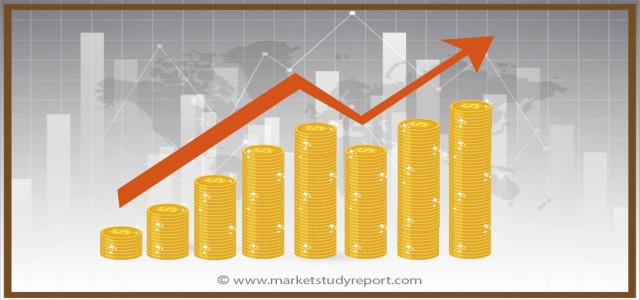 MarketStudyReport.com offers 2018 report on global Automotive Lighting market that evaluates industry growth trends through historical data and estimates future prospects based on comprehensive research. The report extensively provides the market share, growth, trends and forecasts for the period 2018-2024.
Automotive Lighting Market is expected to reach USD 40 billion by 2024
The Automotive Lighting Market report 2018-2024 provides a comprehensive landscape of the industry, accurate market estimates and forecast split By Technology, By Vehicle Type, y Application and regions. All quantitative information is covered on a regional as well as country basis. The report provides valuable strategic insights on the Automotive Lighting, analyzing in detail industry impact forces including growth drivers, pitfalls and regulation evolution. The report also includes a detailed outlook on the Automotive Lighting segment competitive environment, diving in to the industry position of each major company along with the strategic landscape.
Request a sample of this premium report at: https://www.marketstudyreport.com/request-a-sample/1255500/
Notable Automotive Lighting market players comprise General Electric Company, HELLA GmbH & Co. KGaA, Hyundai MOBIS, Koito Manufacturing Co., Ltd, Magneti Marelli S.p.A., Namyung Lighting, OSRAM Group, Koninklijke Philips N.V, Samsung Electronics Co., Ltd, Seoul Semiconductor Co., Ltd, Stanley Electric Co., Ltd, Valeo, Varroc Group, ZKW Group.
Passenger cars in the automotive lighting market are witnessing a rapid demand owing to the increased consumer demand. These cars deploy advanced lights in various systems including the front, rear, interior, and exterior lighting. The growing awareness to develop safe and technically-efficient passenger vehicles and manufacturer strategies to sustain the high automotive lighting market competition drives the segment growth.
The automotive lighting market is expected to witness a lucrative growth in China owing to the rapidly growing automobile industry in the country. The Chinese automotive industry has been at the forefront in terms of annual production surpassing Europe, the U.S., and Japan. China is an attractive place for foreign auto manufacturers and many established foreign players have their manufacturing plants in China. This can be credited to the cheap & easy labor availability and low costs of raw materials.
LED technology in the automotive lighting market is expected to witness several growth opportunities over the forecast timeline. The penetration of LED technology from high-end to mid-range and low-range vehicles is one of the major factors contributing to the growth of the automotive lighting market. This is attributed to the declining costs of LEDs ensued by the optimization and the calibration of LED modules, which is compelling the car manufacturers to introduce LED lighting in economical cars as well. The benefits include more brightness and low power consumption. The use of LED lights is not limited to headlamp systems and are increasingly implemented in the interior and backlighting systems. For instance, cars, such as Nissan Alto and Honda Accord, are equipped with LED daytime running lights.
Request a discount on standard prices of this premium report at: https://www.marketstudyreport.com/check-for-discount/1255500/
Automotive Lighting Market is expected to reach USD 40 billion by 2024. Increasing road safety concerns across the globe have pushed the integration of advanced lighting systems in automobiles. These systems are witnessing extensive upgrades and are adopted by automotive manufacturers to provide a superior experience to the drivers. The lighting systems in vehicles enable enhanced visibility and clarity, crucial for ensuring the safety of the passengers. For instance, in 2016, a project initiated by the German Federal Ministry of Education and Research successfully developed a flexible & compact LED chip and completed the headlight demonstrator test in collaboration with Infineon, Osram, Fraunhofer Institute for Reliability and Microintegration.
Flourishing automotive industry across the globe is majorly driving the implementation of the automotive lighting market products. High production of vehicles, automotive spares, and systems in countries including Germany and China are driving the industry growth. The global automobile industry is growing as the car manufacturers have started responding to the newer government regulations for safety and customer demands for numerous advanced security features. Moreover, technological advancements and urbanization are creating manageable changes in the automotive industry.
Table of Content:
Chapter 1. Methodology and Scope
Chapter 2. Executive Summary
Chapter 3 Automotive Lighting Industry Insights
Chapter 4 Automotive Lighting Market, By Technology
Chapter 5 Automotive Lighting Market, By Vehicle Type
Chapter 6 Automotive Lighting Market, By Application
Chapter 7 Automotive Lighting Market, By Region
Chapter 8 Company Profiles
More Details on this Report At: https://www.marketstudyreport.com/reports/automotive-lighting-market
Related Reports: -
Global and Chinese LED Automotive Lighting Industry, 2018 Market Research Report
Global and Chinese LED Automotive Lighting Industry, 2013-2023 Market Research Report' is a professional and in-depth study on the current state of the global LED Automotive Lighting industry with a focus on the Chinese market. The report provides key statistics on the market status of the LED Automotive Lighting manufacturers and is a valuable source of guidance and direction for companies and individuals interested in the industry.Firstly, the report provides a basic overview of the industry including its definition, applications and manufacturing technology. Then, the report explores the international and Chinese major industry players in detail. The compnaies include: Philips, OSRAM, GE Lighting, Eaton, Panasonic, Toshiba, Sharp, Cree, Acuity Brands, Yankon et al. In this part, the report presents the company profile, product specifications, capacity, production value, and 2013-2018 market shares for each company. Through the statistical analysis, the report depicts the global and Chinese total market of LED Automotive Lighting industry including capacity, production, production value, cost/profit, supply/demand and Chinese import/export. The total market is further divided by company, by country, and by application/type for the competitive landscape analysis. The report then estimates 2018-2023 market development trends of LED Automotive Lighting industry. Analysis of upstream raw materials, downstream demand, and current market dynamics is also carried out. In the end, the report makes some important proposals for a new project of LED Automotive Lighting Industry before evaluating its feasibility. Overall, the report provides an in-depth insight of 2013-2023 global and Chinese LED Automotive Lighting industry covering all important parameters.
https://www.marketstudyreport.com/reports/global-and-chinese-led-automotive-lighting-industry-2018-market-research-report?utm_source=RR-AN
About Us:
Marketstudyreport.com allows you to manage and control all corporate research purchases to consolidate billing and vendor management. You can eliminate duplicate purchases and customize your content and license management.
Contact Us:
Market Study Report
4 North Main Street,
Selbyville, Delaware 19975
USA
Phone: 1-302-273-0910
US Toll Free: 1-866-764-2150
Email: [email protected]
Website: https://www.marketstudyreport.com