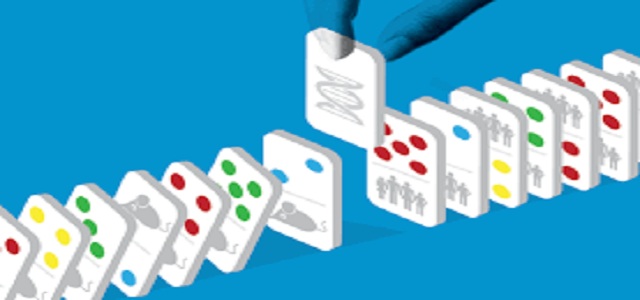 Rising incidence of cancer, cardiovascular diseases, neurological disorders and other chronic diseases should increase biomarkers market growth during forecast period. Changes in dietary patterns leading to various healthcare disorders creates need for disorder detection. Large number of cancer patients suffering with various forms of cancer will further boost the demand for cancer diagnostics through biomarkers. For instance, HER-2, BRCA 1 and BRCA 2 gene biomarkers are widely being used for detection of breast cancer in women. Aforementioned factors will potentially drive the business growth over the forecast timeline.
Growing applications of biomarkers in diagnostics is projected to impel biomarkers market growth in upcoming years. Increased stress, depression levels, as well as lifestyle changes resulting into various chronic disorders and immunological disorders should escalate demand for diagnostics through biomarkers. For instance, stress is the most common form of risk factor associated with prevalence of chronic diseases. This mandates the utilizing biomarkers for investigating and treating stress-related chronic ailments, thereby utilization of biomarkers will drive the market growth.
Get Table of Content of this Report @ https://www.gminsights.com/request-toc/upcoming/2733
Increasing investment in clinical trials for drug development will favor expansion of market size over the forecast timeframe owing to advantages offered by biomarkers. Biomarkers benefit clinical trials by reducing overall costs as well as making the procedures faster. They also assist in tracking efficiency of drugs thereby acting as surrogate endpoints. Better clinical trial results and greater applications in field of oncology will support industry growth in foreseeable years.
However, high investment costs and problems associated such as sample storage & collection can impair biomarkers industry growth. Moreover, unfavorable reimbursement scenario will hamper the market growth in forthcoming years.
Consumables segment is estimated to be the most lucrative segment owing to low cost of acquisition of these products in comparison with automation and screening instruments. Increasing application of biomarker consumables in personalized medicines will further boost the segment growth. Enhanced benefits in association with instruments and software will increase segmental share.
Efficacy biomarker segment is the largest revenue generating segment growing at a significant CAGR. Wide usage in oncology and antiretroviral treatment coupled with numerous research on identification of efficacy biomarkers should drive segment growth in projected timeframe.
Diagnostic biomarker segment will grow at a momentous rate owing to rising incidence of chronic diseases such as cancer, cardiovascular diseases and neurological disorders. Technological advancements along with more demand for diagnostics will greatly flourish segmental revenue size.
Cancer segment will witness a remarkable growth over the forecast period due to rising cancer prevalence across the globe. Biomarkers help in differential diagnosis, risk assessment and monitoring of disease progression in oncology field. Availability of several cancer biomarkers for detection of different kinds of cancer including ovarian cancer, breast cancer and leukemia will foster segment growth in recent years.