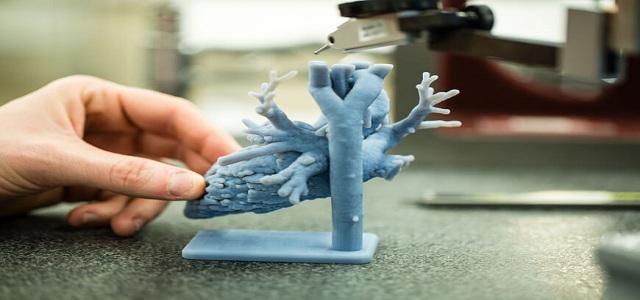 Healthcare 3D Printing Market was estimated over USD 450 million in 2016 and is projected to witness over 20% CAGR from 2018-2024.
Healthcare 3D printing devices market is set to gain strong foothold over coming years. The devices have wide range of application in developing orthopedic implants, prosthetics, dental implants and hearing aids that assist in patient specific treatments. It further reduces the material wastage and enables production of customized devices. Aforementioned applications of healthcare 3D printing devices will fuel the industry growth.
Request for a sample of this research report - https://www.gminsights.com/request-sample/detail/1997
Technological advancements such as personalized plasters, bioprinting of cells, tissues and organs, and 3D printed medications will boost demand of healthcare 3D printing devices. For instance, in 2017, 3D printed vaccines were discovered to deliver multiple doses of vaccines into the patient's system on a specific time, thus eliminating the multiple visits to the doctor.
High cost of 3D printing devices and irregular reimbursement policies reduces the sales. Additionally, concerns regarding biocompatibility of 3D printed medical devices and dearth of skilled professionals may hamper the industry growth.
Syringe based 3D printing is estimated to account for largest revenue due its efficiency to print fluids using nozzle, enabling the printing of complex shapes/objects. Syringe pump extruder offers various applications including embedded printing, bioprinting and food printing that will ease its usage and flexibility. This should drive segment growth over the forecast period.
FDM offers features such as rapid speed, accuracy, easiness, limited design restrictions and automatic scaling, that has increased its adoption rate. Fused deposition modeling (FDM) will experience a significant growth owing to their application in medical device customization, dental clinics and hospitals.
Medical application is projected to dominate the revenue share due to its increasing use in 3D printing of various organs. Application of 3D printing in medicine can confer various benefits such as personalization and customization of medical products, drugs, and equipment, cost-effectiveness and increased productivity. 3D printed prosthetic is trending, and its demand is predicted to further increase over forecast timeframe.
Browse Full Report @ https://bit.ly/2v3Hy0h
U.S. healthcare 3D printing market reported more than 90% of regional share in 2016 and is projected to show rapid growth over the forecast years. Technological advancements such as advent of 3D printing technology in creating bioidentical tissues with the precise vascular networks will revolutionize tissue engineering and would foster the industry growth.
Stratasys, 3D Systems, Bio3D Technologies, Cyfuse Biomedical, 3Dynamics Systems, Envision TEC, Organovo Holding,Reninshaw, Aspect Biosystems and Materialise are the prominent players in healthcare 3D printing market. Industries uses various strategies such as collaborations, acquisitions, mergers, geographical expansion and product launch. For instance, in November 2017, 3D systems signed an agreement with Philips that has accelerated medical progress in patient's care by introducing Intellispace portal10. This has increased the product portfolio of the company solidifying its industry position.