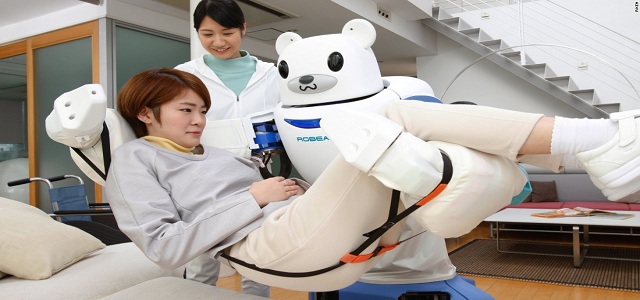 Healthcare Assistive Robot Market size is anticipated to experience significant growth of around 18.9% from 2018 to 2024.
Accelerating elderly population base prone to functional limitations owing to loss of mobility, sensory deficits and impairments will augment demand for healthcare assistive robots over the forecast period. According to World Bank data, nearly 8.5% of the total world population is aged 65 years and above. Thus, increasing number of baby boomers will act as high impacting factor for industry growth.
Intensifying number of spinal cord injuries affecting over 250,000 to 500,000 people across the globe will stimulate business growth over the coming years. As per World Health Organization, about 15% of the world population suffers from disability and around 110 million to 190 million people, suffer from difficulties in functioning.
Request for a sample of this research report @ https://www.gminsights.com/request-sample/detail/1114
Increasing number of people suffering from stroke will attribute towards industry growth. According to WHO, over 15 million people suffer from stroke every year globally. With rising number of stroke patients, demand for healthcare assistive robots is bound to accelerate owing to its capability to carry out repetitive set of exercises and provide quantifiable feedback against physiotherapists, thereby fuelling industrial growth.
Increasing number of patent filings covering robotic technology and rise in venture capital investments will positively impact industry growth. However, lack of skilled professionals to understand robotic mechanism and prohibitive costs will hamper industry growth over the forecast period. Partial understanding of robot mechanism in overcoming physical and nervous impairments and lack of regulatory approval procedures pre-commercialization will also hinder the industrial growth.
The healthcare assistive robots are categorised into four segments that are surveillance & security, humanoid, rehabilitation and socially assistive. Surveillance and security robot is a proactive defensive operator that is used to monitor the behaviour, activities, and other changing information gathered for managing and protecting the patient from any harm, beneficial for patients opting for home care settings will drive segment growth.
Rehabilitation medical robots accounted for more than 42% of market share in 2015 and is estimated to grow at more than 19% CAGR over the coming years. Rehabilitation medical robots can widen the duration of physical training sessions and supervise certain features of rehabilitation from home, even in the absence of an expert, will propel segment growth over the forecast period.
Humanoid robots are expected to observe lucrative growth owing to its several features such as self-maintenance, autonomous learning and safe contact with the humans and surrounding environment. Growing geriatric population, rising incidences of strokes and spinal injuries facilitates the growth of the industry.
Browse Full Report @ https://bit.ly/2kwsSTH
Mobile robotics is likely to grow over 19.5% CAGR over the forecast period and is estimated to surpass USD 590 million by 2024 pertaining to several advantages such as drive motors, sensors, computer, batteries and external case. In addition, some models are programmed to open doors, call elevators, communicate and avoid obstacles. Mobile robots increase the productivity of the technical staff and even manage tracking of supplies and equipment delivery. They improve patient care with significant cost savings, will stimulate demand and growth of the segment over the coming years.
Orthopedic sports held USD 56.3 million in 2015 and is estimated to grow at 19.4% CAGR over the forecast period. Its ability to help surgeons in providing visual, auditory and tactile feedback that assists in achieving desired orientation, to improve stability and mobility will drive industry growth.
U.S dominated healthcare assistive robot market in 2015 accounting over 85% of the total business revenue and is anticipated to reach USD 310 million by 2024. Rising number of people suffering from stroke, high adoption of technologically advanced products and growing geriatric population will drive U.S healthcare assistive robot market. As per CDC, nearly 140,000 Americans die due to stroke each year, thereby compelling its government to spend USD 34 billion annually on its treatment, will stimulate demand for healthcare assistive robots in U.S. over the coming years.
Japan healthcare assistive robot market will grow at lucrative rate of over 22% CAGR over the forecast period reaching over USD 97 million by 2024 owing to favorable healthcare policies and escalating geriatric population. Presence of major industry players and technological advancements will drive the Japanese market substantially. Moreover, government initiative such as "robot revolution realization council", will positively impact industry growth.
Some of the major industry players of healthcare assistive robot market are HONDA Motor, KUKA Robot Group and Cyberdyne. These companies dominate the market owing to their popular products and strong financial base. Other industry players operating in the market include Hocoma, Kinova Robotics, Ekso Bionics, GaitTronics, Bionik and ReWalk Robotics. Industry players focus on strategic alliance and innovation of new products to sustain in the market and intensify its business revenue.