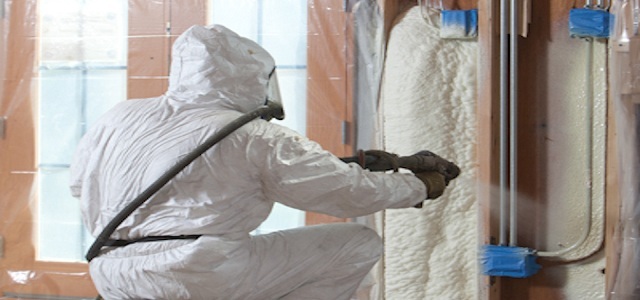 The competitive hierarchy of spray polyurethane foam market is all inclusive of renowned giants who have been investing heavily in novel product developments and sustainability trends. For instance, Canada based Icynene U.S. Holding Corp. and Lapolla Industries Inc., two of the acclaimed biggies of SPF market have recently inked a definitive merger agreement, where the former is reported to acquire all the significant shares of Lapolla.

Reportedly the net financial transaction of the deal was valued at approx. USD 160 million, where the stakeholders of Lapolla are claimed to receive USD 1.03 in cash for each of their share. Allegedly, through the deal both the organizations are aiming to serve a wide variety of residential and commercial insulation projects across the globe with their collective product portfolio, comprised of innovative energy-conserving SPF insulation products.
Request for a sample copy of this report @
https://www.gminsights.com/request-sample/detail/2096
The relentless proliferation of construction activities across major urbanized nations, undoubtedly has left an unparalleled impact on spray polyurethane foam market demand. The massive surge in the construction spending in tandem with increasing focus on public infrastructure by governmental organizations are the factors providing a substantial push to the exponentially expanding construction industry. In fact, as per reliable estimates, the overall construction spending crossed USD 5 trillion in 2016, and is slated to reach over USD 8 trillion by 2024.

Spray polyurethane foam is basically a chemical composition, formed by two polymer based products isocyanate and polyol resins. This unique amalgamation scores them a competitive advantage over other traditional products in terms of insulation efficiency, making its application quite profound in residential and commercial construction sectors. Though still at a nascent stage, with increasing commercial popularity, spray polyurethane foam market is expected to be one of the most opportunistic business spheres of recent times.
Speaking of application matrix, the overall industry encompasses a host of opportunities across residential roofing, residential wall, commercial roofing, and commercial wall. Of late, energy crisis has become a global concern, a factor than has prompted many of these end-use sectors of SPF market, prominently residential walls, to look for alternatives that are energy efficient and environmentally viable. In fact, estimates depict, overall spray polyurethane foam industry share from residential walls recorded a revenue of USD 350 million in 2016, and is expected to record a lucrative CAGR over 2016-2024.
Make an inquiry for purchasing this report @
https://www.gminsights.com/inquiry-before-buying/2096
SPF basically creates airtight and watertight seal directly against the substrates for eliminating the chance of any kind of air filtration, which by extension makes it highly energy efficient and sustainable. A recent report put forth by Center for Climate and Energy solutions claims that commercial and residential buildings account for almost 39% of the total energy consumption in U.S. The fact that inflow of air is one of the prime sources of energy loss in majority of the building infrastructure, sealing the buildings with thermal envelop has, of late, become a mandate to comply with the energy code. With the influx of stringent state and national building jurisdictions promoting high-end energy competency in commercial and residential infrastructure, manufacturers are increasingly inclining toward bringing energy efficient systems to limit the heat losses.
In this regard, North America has established itself as one of the most prominent avenues boosting SPF industry size. The regional growth is quite overt with the tax benefits promoting energy efficient infrastructure and supportive government regulations. In fact, standardization of several energy codes in U.S. like IECC (International Energy Conservation Code) makes it a major revenue pocket for the regional spray polyurethane foam market. Estimates depict that procuring almost 40% of the overall share, North America spray polyurethane foam industry size was almost USD 650 million in 2016.
Browse Complete Summary of this report @
https://www.gminsights.com/industry-analysis/spray-polyurethane-foam-spf-market
One of the noteworthy transitions that SPF industry has been recently observing is growing consumer proclivity toward Low Global Warming Potential (GWP) blowing agents. Honeywell, one of the most renowned names in the spray polyurethane foam market, has already established strong grounds in the North America with the commercialization of LGWP products. With ongoing product innovations leading to a versatility in application matrix and the relentless efforts of the industry players to address the energy efficiency and sustainability trends, spray polyurethane foam market size is forecast to exceed a valuation of USD 2.5 billion by 2024.