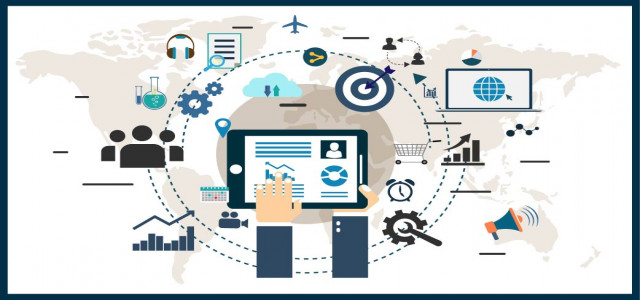 Tractors, UAVs, and harvesters essentially comprise the product spectrum of autonomous farm equipment industry. Tractors in fact, are the most commonly used equipment and have a perpetually escalating demand. As per estimates, tractors are expected to dominate autonomous farm equipment market share over 2017-2024, subject to their ease of use and extensive deployment in the agricultural sector. Drones or unmanned aerial vehicles (UAV) on the other hand, are expected to bring about a commendable upsurge in autonomous farm equipment industry. Technologically advanced drones are increasingly being used for soil and field analysis, planting, crop spraying and monitoring, irrigation and health assessment of crops. Drones can reach any corner of the field very quickly and can effectively identify problems and brainstorm solutions when they are incorporated with 3D maps, ultra-sonic echo machines, cameras, thermal sensors, scanners, and a plethora of other equipment, pertaining to which UAV autonomous farm equipment market is estimated to witness a 35% growth by 2024.
Autonomous equipment is designed to give farmers more freedom to manage the farms rather than drive around the farm on a variety of vehicles. Broadly, the operational landscape of autonomous farm equipment market is segmented into partially and fully autonomous farm equipment. Partially autonomous devices already contribute to a large share of the overall autonomous farm equipment market, subject to their widespread commercialization and competitive pricing. Farm equipment such as the ones that can separate corn from cob, steer themselves, or pick potatoes while leaving the waste on the field are already widely in use. Fully autonomous farm equipment, such as the ones that can make farming decisions on their own without any human supervision are no more a thing of the future either. Pertaining to rapid technological advancements and farming innovations, fully autonomous farm equipment industry size is projected to increase at a growth rate of more than 40% over 2017-2024.
Get sample copy of this research report @ https://www.decresearch.com/request-sample/detail/2230
In 2016, North America holds significant industry share owing to strong presence of major manufacturers. This can be attributed to higher penetration rate of tractors and harvesters installed with autosteering functions. Usage of drones for mapping and spraying operations will further support the regional demand.
Europe led by Germany, Italy, France, Russia and UK is estimated to witness significant growth during forecast timeframe. Shifting trends towards products with higher efficiency, reduced emissions and enhanced productivity will drive the autonomous farm equipment market growth.
Having documented a long-standing history of being an agro-based economy, India is touted to emerge as one of the pivotal regional autonomous farm equipment markets. Even as on 2017, more than 50% of the of the Indian populace is inherently dependent on agriculture and related activities for sustenance. However, more than 80% of Indian farmers own farmland lesser than two hectares, and have a rather small, bifurcated sense of ownership in India's huge agriculture sector. Amidst this massive fragmentation, it goes without saying that the country's farming activities stay put, owing to the lack of high yielding fertilizers and seeds and the inadequacy of modern production and processing methodologies. This in consequence, has led to India evolving as a rather lucrative ground for the development of autonomous farm equipment market.
India is thus undergoing a paradigm shift, what has been dubbed as 'Farming 3.0' – the third farming revolution. In accordance, the nation seems to be actively drifting toward innovative farming, which would prove to be rather advantageous for the growth of autonomous farm equipment industry in India. The nation has been, since the last few years, welcoming investors and start-ups to establish their base in India and diligently pursue advanced technology to come up with a range of highly innovative products such as partially and fully automated tractors and harvesters.
With automated devices garnering momentum in India, it has also been projected that the region would be a major revenue contributor toward APAC autonomous farm equipment industry. Given that the continent in itself is a hub of major agro-based emerging economies, it remains quite unarguable that Asia Pacific would be one of the key regional autonomous farm equipment markets in the years to come. Led by India, Japan, China, Australia, and South Korea, APAC autonomous farm equipment industry share has been projected to register a CAGR of 25% over 2017-2024.
Make an inquiry for purchasing this report @ https://www.decresearch.com/inquiry-before-buying/2230
While the notion of self-operating equipment seems quite attractive in theory, there remains no shred of doubt that practically implementing the concept on a large scale is enormously expensive. Product development and implementation costs thus, in particular, are likely to emerge as key restraints for autonomous equipment market in the future. In consequence, companies have been attempting to devise newer strategies to brainstorm cost-effective solutions in order to increase product penetration, which would eventually have an impact on the revenue graph of autonomous farm equipment industry. The successful application of GPS systems in agriculture and the deployment of IoT in the farming sector notwithstanding, autonomous farm equipment market trends are expected to escalate in the forthcoming years. As per estimates, autonomous farm equipment industry size is expected to exceed 3 million units by 2024, in terms of volume.
Some Points from Table of Content: -
Chapter 4 Autonomous Farm Equipment Market, By Operation
4.1 Market share by operation, 2016 & 2024
4.2 Fully autonomous
4.3 Partially autonomous
Chapter 5 Autonomous Farm Equipment Market, By Product
5.1 Market share by product, 2016 & 2024
5.2 Tractors
5.3 Harvesters
5.4 UAV drone
Chapter 6 Autonomous Farm Equipment Market, By Technology
6.1 Market share by technology, 2016 & 2024
6.2 Software
6.3 Hardware
Browse complete Table of Contents (ToC) of this research report @ https://www.decresearch.com/toc/detail/autonomous-farm-equipment-market