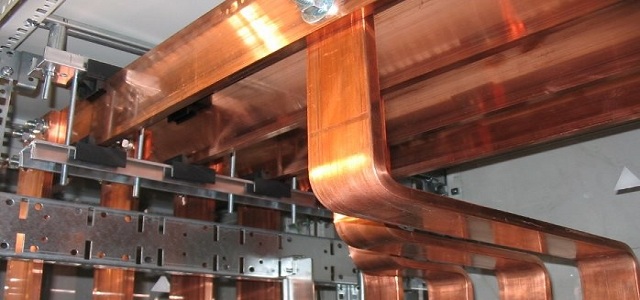 Increasing demand for electrical conductor to carry large current within distribution board, substation, battery bank, switch board will stimulate the global busbar market size. Ability to offer stiffness to allow effective cooling of conductors, lower assembly time, reduced complexity and ability to tap-in without creating a new joint institute a favorable business scenario.
Increasing development of smart cities have compelled utilities and installers to align their focus toward energy efficient electric infrastructure. Furthermore, favorable regulatory prospects in compliance to the labelling and eco-design reforms across developed economies will considerably foster the global busbar market share. Growing energy consumption along with rising concern toward transmission and distribution losses will further complement the industry landscape.
Request for a sample of this research report @ https://www.gminsights.com/request-sample/detail/2399
The U.S. busbar market size is projected to reach over 600 Kilo Tons by 2024. Growing spending toward the replacement and upgradation of electrical grid network to suffice the electricity demand will foster the industry growth. In 2016, Department of Energy funded USD 4 million for development of micro grid infrastructure in Chicago.
Copper busbar market is set to witness growth of over 5% owing to its ability to offer effective corrosion resistance, and high thermal conductivity. Furthermore, improved ductility, temperature resilience, short circuit protection and reliable service life will escalate the product adoption. The material is suitable for various configuration ranges from vertical; risers and carrying current to each floor of multi-storey building to busbar used within electrical equipment.
Increasing demand for reliable electricity from rural and urban areas along with introduction of several initiatives to support the installation of transmission and distribution network will augment the Asia Pacific busbar market size. In 2015, Integrated Power Development Scheme has been introduced to provide financial support against capital investment to bridge the technological gap across sub transmission networks in India. Regulators across the nation have also set target to reduce T&D losses from 22% in 2015 to 15% by 2019.
The UK in 2016, accounted for over 10% of the Europe busbar market share. Growing demand for energy efficient electric equipment to establish a sustainable electric supply network will augment the business landscape. The government of UK introduced National Infrastructure Commission to formulate long term strategy to upgrade the existing infrastructure to accommodate the increasing population.
Browse Full Report @ https://bit.ly/2otxN7F
Saudi Arabia busbar market size is set to witness growth over 5% owing to the rapid expansion of power generation facilities across the nation. In 2017, Saudi electricity company announced to construct six power plant and build five interconnecting 380kV transmission lines in northern region of Saudi Arabia. A construction of five overhead lines required 1,376 miles of conductors at an estimated cost of USD 1.46 billion.
Key industry players across busbar market include Bhagyanagar India, Siemens AG, Godrej & Boyce Mfg., Southwire Company, Methode Electronics, C&S electric, ABB, Busbar power range Belgium, Oriental Copper, Schneider Electric, Littlefuse, Eaton, Legrand Group, Pentair, MERSEN, Halcor and Legrand.