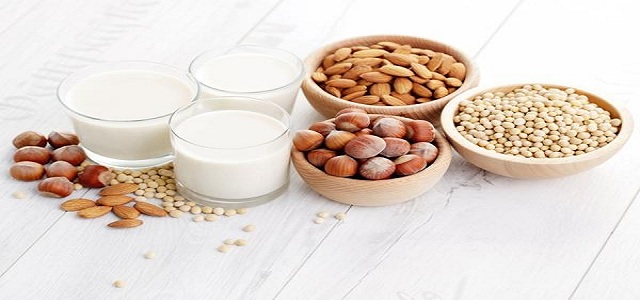 Dairy Alternatives Market is expected to witness significant industry growth owing to its health benefits and absence of cholesterols in the products. Increasing health awareness of consumer about nutritional benefits from fortified non-dairy dairy food and beverages are the prominent factors boosting demand.
Milk products are an important part of human food supply chain as they are good source of proteins, vitamins and other nutrition are essential for growth and development. However, changing consumer trends towards a vegan diet and increasing intolerance of lactose products among the large population are the major factors propelling dairy alternatives market growth.
Increasing incidences of lactose intolerants, diabetic patients and dietary allergies are rising demand for plant sourced nutritional products including soy, almond, coconut, rice and hump. According to National Institute of Diabetes and Digestive and Kidney Diseases quoted definition lactose intolerance is a digestive symptom shows bloating, diarrhea, pain and gas after consumption of food or drink containing lactose.
Ask for TOC of this Report @ https://www.gminsights.com/request-toc/upcoming/2451
The rising popularity of dairy alternatives owing to its improved health related claims and appealing flavors are the key factors instigating new product launched in the industry. Manufacturers such as White Wave Foods, had launched beverage consists of almond milk and soya milk under a brand name of Silk. In addition, Blue Diamond Growers announced the launch of Almond Breeze, an alternative containing high vitamin-E.
FDA and other regulatory bodies had issued stringent guidelines that need to be followed by dairy industry is making the production process much time taking. However, availability of low fat traditional milk products and a high price trend associated to diary alternatives are the major factors hampering industry growth.
Based on product, the dairy alternatives are categorized into soy, almond, coconut, rice, oat, hemp. Soy milk segment is expected to hold large market share during forecast time owing to its advantages include lactose and cholesterol free contents. In addition, other products including almond milk, rice milk and coconut milk are gaining steady growth. Soy milk is highly suitable for sports person and health conscious populations due to a good source of amino acids, B-vitamins, fiber and potassium. Increasing usage in energy drinks and among the large variety of flavor and formulation will propel market penetration.
Plain & sweetened, plain & unsweetened, flavored & sweetened, flavored & unsweetened are among the key identified dairy alternatives formulation. Flavored and sweetened category is projected to be fastest growing market segment due to its suitability in large number of products. Majorly beverage companies are focusing on enhancing taste by adding flavors and taste enhancers and sweeteners in the product range.
Food applications are anticipated to generate significant revenue in this industry. Changing lifestyle and hectic work schedules causing nutritional deficiency among consumers such as anemia and vitamins will drive demand. Dairy products including yogurt, ice-creams, cheese, sauces, and pudding are the major application range. Rising usage of plant milk in several food products to improve nutritional content will propel dairy alternatives market growth over forecast time frame.
North America dairy alternatives market is expected to witness notable product adoption rate during the forecast timeframe owing to the large presence of health-conscious consumers. The region has large population suffering obesity patients including children, teenagers, youngsters, adults and old.
Asia Pacific dairy alternatives market is expected to exhibit highest growth rate owing to large consumer population. Countries including India, China, and Japan is expected to contribute major share due to rapid industrialization and health awareness. Vegan population growth, high disposable income, and increasing numbers of lactose allergic population in the region will drive regional industry share.
Global dairy alternatives market share is highly fragmented in nature large manufacturers and local players in the local market. The prominent industry players include WhiteWave Foods, Blue Diamond Growers, SunOpta, Valsoia SpA, Freedom Foods Group Limited, Vitasoy International, Nutriops S.L, Earth's Own Food Company, Daiya Foods, and Archer Daniels Midland Company. Other major companies in terms of product portfolio and geographic presence are Danone, Dohler, Triballat Noyal, Eden Foods, Living Harvest Foods, Kikkoman, Sanitarium Health, and Wellbeing Company. These companies are focusing on new product development to gain market share. Also, strategic collaborations and long-term contracts with suppliers are prominent strategies adopted by the players.
What Information does this report contain?
Historical data coverage: 2013 to 2016; Growth Projections: 2017 to 2024.
Expert analysis: industry, governing, innovation and technological trends; factors impacting development; drawbacks, SWOT.
6-7 year performance forecasts: major segments covering applications, top products and geographies.
Competitive landscape reporting: market leaders and important players, competencies and capacities of these companies in terms of production as well as sustainability and prospects.