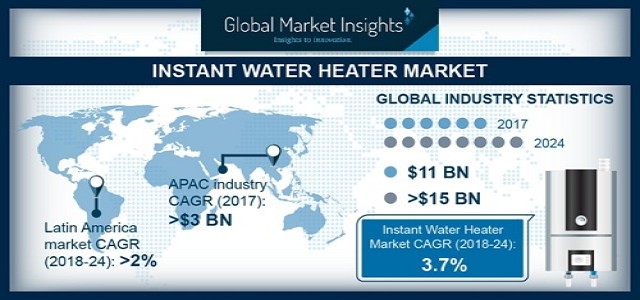 Instant Water Heater Market share is propelled due to regulatory measures in various countries and regions which is dictating the minimum energy efficiency standards for energy consuming devices. Such legislative regulations are also adding an additional impetus to the growth of the instant water heater market as many older and energy inefficient water heaters are being replaced with technologically advanced ones.
The global instant water heater market is expected to register a major upheaval during 2018-2024 as regulatory forces across the globe are at work to increase energy efficiency in all devices. According to the U.S. Department of Energy, water heating accounts for the second largest energy expense in U.S. households, responsible for 14% to 18% of the utility bills. Instant water heaters are confirmed to be much more efficient that traditional water heaters with tanks and are also becoming water heaters of choice in most households as they deliver hot water without the delay associated with water heater with tanks.
Request for a sample of this research report @ https://www.gminsights.com/request-sample/detail/3007
Speaking of updated regulations to combat the effects of climate change, an instance that can be cited is that of the U.S. minimum energy conservation standards which were made official in 2015. According to the updated standards, known as the National Appliance Energy Conservation Act, water heaters with tanks have to be larger in storage capacity in order to comply with the new minimum energy efficiency standards, in turn requiring larger storage tanks and needing more space for installation.
The new energy efficiency standards were made mandatory on all residential water heaters sold post April 16, 2015. Such regulations added a momentum for the expansion of instant water heater market as large storage tanks and more installation space posed a spatial challenge for many households. Instant water heaters entirely eliminate the need for added storage space as these water heaters are tankless and can be just hung on the wall in a bathroom where space is constricted.
Make an inquiry for purchasing this report @ https://www.gminsights.com/inquiry-before-buying/3007
Most storage type water heaters last for more than 10 to 15 years but instant water heaters can last for more than 20 years due to the fact that they are not corroded by water storage or bacterial growth. In most North American and European nations, where residential water heaters are more than 15 years old and consumers are looking to upgrade their largely energy consuming water heaters, the instant water heater market is expected to register a growth spike over 2018-2024 as consumer awareness regarding energy conservation has increased. In spite of instant water heaters being more expensive and considered complicated to install, they are anticipated to attract more customers are the cost savings in terms of lower energy bills eventually offset the higher installation costs.
Rapid urbanization is also increasing growth opportunities for the instant water heater market as space constraint is a major issue in most urban homes. Emerging economies like India and China are have come up to be major contributors to the growing instant water heater market as disposable incomes among the burgeoning middle-class population of these countries are increasing. According to reports, Indians, who have traditionally used solar water heaters, immersion rods and even boiling to obtain heated water, are increasingly turning to electrical water heaters for safety and energy conservation purposes.
Browse Complete Report Summary @ https://www.gminsights.com/industry-analysis/instant-water-heater-market
Significantly in 2015, Indians spent nearly $175 million on electric water heaters with sales spiking during the winter months. Easy and wider spread distribution of electricity also played a major part in the overall growth of instant water heater industry in the Asia Pacific region where the instant water heater market was valued at approximately $3 billion in 2017.
Some of the most notable participants in the instant water heater industry are A.O Smith, Haier Electronics, Bosch, Whirlpool, Jaquar, Ariston Thermo, Hubbell, Rheem, Linuo Ritter, Viessmann etc. who are engaged in continual research and development activities to bring newer and more energy efficient technologies to the market thus further increasing the growth scope for the instant water heater industry.