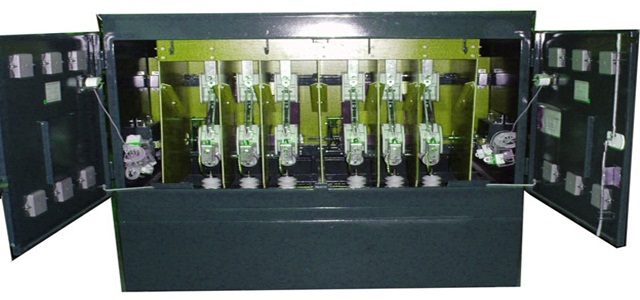 The Pad Mounted Switchgear Market can be segregated on the basis of product segments which include gas insulated, air insulated, solid insulated, and other switchgears. By voltage, the industry is segmented as 0-15 kV, 16-25 kV and above 25 kV. The industry is further segregated on the basis of application which includes commercial, industrial and residential. Commercial sector is the fastest growing application segment in 2014.
High reliability of underground distribution systems is expected to be the prime factor responsible for the growth of the pad mounted switchgear market over the forecast period. In addition, increasing T&D (Transmission & distribution) utilities should also favor demand during the next few years. Some of the additional benefits offered include cross bus at the top of enclosure for ease of inspection and flexible modular design promotes life cycle support including field upgrades and repairs. In addition, these switchgears are available in mild steel, stainless steel or aluminum construction and are also easily replaceable.
Request for Table Of Content @ https://www.gminsights.com/request-toc/upcoming/314
Pad mounted switchgear market size was valued around USD 4 billion in 2014 and is anticipated to grow at a significant CAGR of more than 9% from 2016 to 2023, exceeding USD 6.5 billion. Mainly used in underground distribution system to ensure reliable and continuous electricity distribution, it also amplifies the reliability and efficiency of the electrical supply with the advantage of being less susceptible to lightning and offers easy diagnosis of faults. The aforementioned factors are driving the demand for the industry over the forecast period.
France and UK pad mounted switchgear market are likely to be high growth regions with CAGR of over 8.5% and 8 % respectively, over the forecast period. High initial cost is likely to hamper the industry growth. Moreover, interchangeability with existing systems acts as a challenge to the demand growth over the forecast period. Growing trend for underground electrical lines developing countries is identified as the potential growth opportunity for the pad mounted switchgear market from 2016 to 2023. A number of countries are adopting these distribution networks as they offer less susceptible to lightning and also have low maintenance cost.
Asia Pacific pad mounted switchgear market is the fastest growing region. Increasing inclination for underground distribution should fuel growth over the forecast period. Enormous T&D network industrialization and expansion projects in this region are positively influencing the growth over the next few years. Increasing scope for pad mounted switchgear market in application sectors offers several benefits such as high dependable power for optimum, continuous and uninterrupted operations. This will amplify the demand for underground distribution systems.
Europe pad mounted switchgear market was the foremost region in 2014. The region is currently focusing on replacement and up gradation of its aging infrastructure, converts overhead lines into underground wires and improving grid reliability. The above mentioned factors underground distribution equipment demand including switchgears.
Dominant manufacturers are focusing on adopting various methods and penetrate developing economies in order to hold the maximum industry share. Chief players for the pad mounted switchgear market share include Entec Electric & Electronic Co., Trayer Engineering Corporation, Tiepco, Power Grid Solution Inc, S&C Electric Company, Electronic & Electrical Industries Corporation, G&W Electric, Hubbel Incorporated, Eaton Corporation and Federal Pacific among others.
Browse Full Report @ https://www.gminsights.com/industry-analysis/pad-mounted-switchgear-market