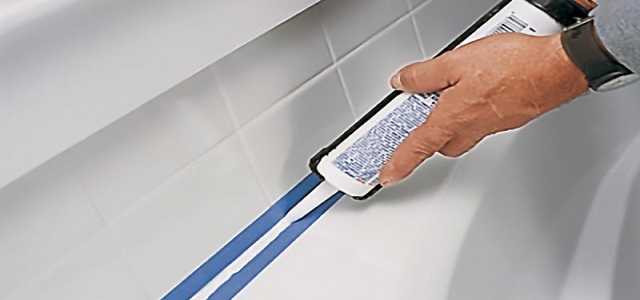 Construction sealants market has been experiencing exponential growth since the last few years, driven by the fact that sealants effectively protect buildings against external corroding forces and seal off apertures that can cause a building to lose its heating or cooling capacities. Riding mainly on the parameter of energy efficiency, construction sealants market size is likely to increase massively over the next few years, given that these sealants help fend off dust, pollution, noise and other undesirable elements out of the building.
With the industrial, commercial and residential construction spheres expanding at an appreciable rate, it is inevitable for the revenue graph of construction sealants industry to depict an upward trajectory as well. Reliable statistics stand testimony to the aforementioned fact – in 2016, construction sealants market size was pegged at USD 4.5 billion, and is expected to uphold an equally impressive revenue projection in the forecast period of 2017-2024.
Request for a sample copy of this report @ https://www.gminsights.com/request-sample/detail/2249
Government initiatives for decreasing emissions and establishing a greener planet is one of principal driving forces of construction sealants market, given that efficient sealing provides better insulation, thereby saving energy. Increase in consumer awareness regarding energy conservation for lower power bills has also stimulated the construction sealants market. It is important to note that construction sealants are not effective for merely energy conservation but also noise reduction and moisture control. With massive growth in urbanization and a subsequent change in home construction styles, consumers are increasingly preferring to keep the bustle of the city out of their homes, the necessity of which is fulfilled with the help of proper sealings.
Wet areas in the building such as bathrooms and kitchens also require effective sealing so that the moisture from these areas does not damage the other areas of the building. On that note, it is prudent to mention that construction sealants industry is expected to register a CAGR of 3.1% from the kitchen and sanitary sealing segment.
Apart from wet area sealings, application of sealants in flooring and joining is also expected to bolster the growth of construction sealants market. In fact, as these heavy-duty sealants provide high mechanical resistance and effective moisture barrier, in addition to ensuring compatibility between different building materials, construction sealants market size from flooring & joining applications has been forecast to record a growth rate of 4% over 2017-2024.
Make an inquiry for purchasing this report @ https://www.gminsights.com/inquiry-before-buying/2249
With the surge in modernized designs and evolving aesthetics, buildings are being made of not only traditional materials but with a mixture of glass, aluminum and steel that require different sealing techniques than their predecessors. Therefore, the construction sealants industry is receiving major stimulus from the structural glazing application of sealants that is projected to exceed $3 billion by 2024. Structural glazing provides ease of application of construction sealants over glass, windows and aluminum structural parts. Furthermore, they are eco-friendly and cost effective, providing a further stimulus to construction sealants market share.
Construction sealants market is projected to witness major growth in Asia Pacific, given the fact that the continent is one of the pivotal hubs for the growth of the construction industry, especially across the emerging economies of China and India. Financial assistance provided by the regional governments and the rising living standards have stimulated the commercial as well as residential construction industry in these countries, which has in turn stimulated the construction sealants market. As per estimates, APAC construction sealants industry is predicted to surpass USD 2.5 billion by 2024.
Browse Complete Summary of this report @ https://www.gminsights.com/industry-analysis/construction-sealants-market
Reasonably speaking, there are indeed, other materials that can make buildings more corrosion resistant and increase water impermeability. However, construction sealants are still a highly favored option as they have a lower VOC content and are more flexible in their structure. Key industry players like 3M, Sika AG, Dow Corning, Bostik and Tremco are conducting extensive research and development programs to bring better construction sealants to the market that will be more elastic in nature and will allow joint movements, more gap filling and have a quick drying time. With expansion of the construction industry and addition of innovative sealant types, construction sealants industry is projected to witness consumption of over 700 kilo tons by 2024.