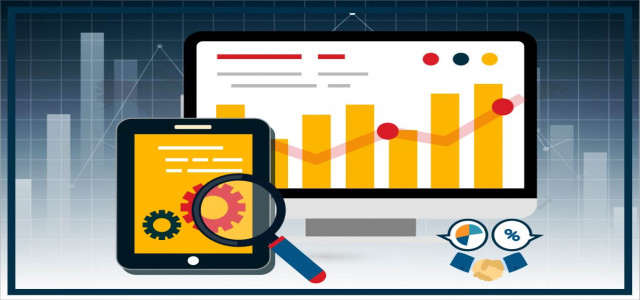 The Crawler Crane Market size was estimated at USD 1.8 billion in 2017 and is projected to surpass USD 3 billion by the year 2024.
During the period of 2018-2024, the Crawler Crane Market is anticipated to expand with a CAGR of 7%. The report contains detailed analysis of Business Competitors, Evolving Technology, Growth Rate, Industry Strategies, Key Companies, and Forecast till 2024. The study encompasses ample details regarding the important sectors of the market and their significance.
Request for a sample copy of this report @ https://www.decresearch.com/request-sample/detail/2960
In the crawler crane market, the energy sector is expected to witness a substantial growth due to the essential operations in wind power generation. These cranes are used in the transportation and assembly of wind turbines, mixing plant operations, and lifting works. The high-capacity cranes also perform the erection of wind turbines and provide increased operator safety during these operations. Precision control and high flexibility are the major factors that increase the deployment of these machines in the production of oil & gas, wind energy, and power. For instance, in November 2017, Demag, a Terex Corporation brand, announced the deployment of four crawler cranes in the Beatrice Offshore Windfarm project in Germany.
Asia Pacific crawler crane market is anticipated to witness growth owing to the emerging construction and rental sectors in countries including China and India. The growth of equipment rental providers in the region will lead to a high machinery demand. Global companies are expanding their business operations in the region by collaborating with local manufacturers due to increased commercial and residential construction activities in the region, thereby supporting the industry demand. For instance, in December 2016, Jekko s.r.l. collaborated with Lee Hyun Soo and Dennis Shin for establishing the new subsidiary Jekko Korea in Seoul.
Market Growth Drivers –
Increasing infrastructure investments globally
Implementation of advanced technologies
Rising demand from the energy sector
Growing rental companies in Asia Pacific and North America
Increasing rate of urbanization in the North America & Europe
Emergence of new manufacturing companies in Europe
Rapid infrastructure development in BRIC countries
Recovering construction sector in Latin America
Rising number of public private partnership projects in MEA
High demand for crawler cranes from the utility sector in MEA
Make an inquiry for purchasing this [email protected] https://www.decresearch.com/inquiry-before-buying/2960
Market Segmentation:
Know about Market growth in New Research and its Top growing factors by Key Companies like
Action Construction Equipment Ltd, BG Lift, Böcker Maschinenwerke GmbH, EFFER S.P.A., The Escorts Group, Furukawa UNIC Corporation, Henan SPT Machinery Equipment Co. Ltd., Hitachi-Sumitomo Heavy Industries Construction Crane Co. Ltd., Hoeflon International BV, Jekko s.r.l., Kato Works, Kegiom Lifting, Kobelco Construction Machinery Co. Ltd., Komatsu Ltd., Konecranes Oyj, Liaoning Fuwa Heavy Industry Machinery Co. Ltd., Liebherr Group, Link Belt Cranes, Maeda Seisakusho Co. Ltd., Manitex International, Manitowoc, Palfinger AG, R&B Engineering, Sany Group, Sennebogen Maschinenfabrik GmbH, Sunward Equipment Group, Tadano Ltd., Terex Corporation, TSC, Rental, Construction, Mining, Oil & Gas, EnergyMG Group, Zoomlion Heavy Industry Science and Technology Co. Ltd.
Comprehensive Review of Market Growth, Applications, and Future Prospects
Rental,
Construction,
Mining,
Oil & Gas,
Energy
The Regional Evaluation Ensures
North America,
Europe,
Asia Pacific,
Latin America (LATAM),
Middle East
Market Report Includes
An exhaustive analysis regarding the present market scenario along with the growth opportunities, major players, target audience, and market forecast until 2024
A thorough gist of the market including growth projection, market size, prominent contenders, and market evaluation till 2024
A documentation of the growth forecast, returns, growth opportunities, and Forecast 2019-2024
Summary of Primary and Secondary Research, alongside Consumption Analysis, Market Segmentation, and Forecast until 2024
A comprehensive evaluation with regards to Export Research Report, Emerging Growth Factors, Market Dynamics, and Forecast 2019-2024
Data pertaining to Strategic Developments, Market Assessment, and Forecast until 2024
Information regarding market trends, product applications, ongoing demand, technological developments and Forecast till 2024
Request for discount @ https://www.decresearch.com/request-discount/2960
Key Reasons to Purchase the Market Report
The report is inclusive of detailed analysis of the global market with respect to end-use spectrum, product terrain, market opportunities, along with regional demand by 2024
An exhaustive data review, in consort with the systematic assessment of the market with regards to the regions and global vendors – until 2024
All-detailed documentation of the parameters which will influence the market significantly, alongside the preventive strengths and their impact on the global market.
The study further focuses on identifying the concealed growth opportunities of the market while delivering data on increasing CAGR through 2024
The report evaluates basis issues, solutions, in tandem with product developments to address the expansion threat.