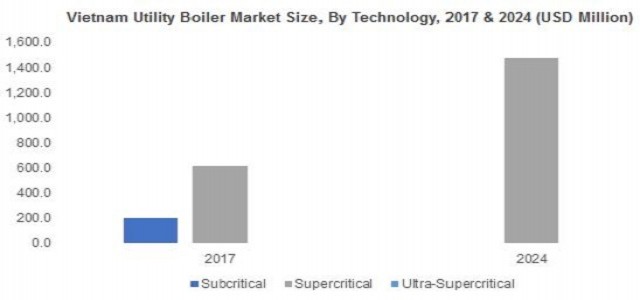 Utility Boiler Market trend is stimulated by the deployment of captive power plants inside large-scale industries such as pulp & paper, cement, refining, and chemical. Major developing economies are focusing extensively on the enlargement of production capacity, which will further advance the utility boiler market remuneration potential. Spanning major geographies across the globe, utility boiler market has been touted by experts to emerge as one of the most remunerative business spheres by 2024.
The global utility boiler market is anticipated to emerge as one of the most promising verticals in the ensuing years, primarily driven by the burgeoning economic development across the globe and the massive energy demand. For instance, the net electricity generation in the European Union was 3.10 Mn GWh in the year 2016. Nearly half of the net electricity generated in the European Union in 2016 came from combustible fuels, as per the Eurostat report. Increasing efforts to alleviate the electricity demand-supply gap together with stringent regulations towards carbon emissions will propel the adoption of utility boilers.
Request for a sample of this research report @ https://www.gminsights.com/request-sample/detail/2990
The following paragraphs enumerate an in-depth analysis of the utility boiler market with respect to the regional landscape:
Unveiling utility boiler market trends across the Asia-Pacific
The Asia-Pacific utility boiler market is predicted experience an upward trend in the approaching years due to the burgeoning industrialization and urbanization in countries like China and India. Several government-led initiatives to curb power supply issues in Asia Pacific belt will also add impetus to the regional utility boiler market. Governments across APAC have also introduced aggressive capacity expansion plans in order to fulfill the present & future electricity demand, thereby pushing the product demand.
Currently, India is the world's third largest producer of electricity with an ever-increasing power demand. In a recent turn of events, GE Power has reportedly declared that Tata Chemicals and NTPC have selected its technology to upgrade two coal-fired boilers with GE's low NOx firing system. GE's new technology would help reduce NOx generation by as much as 40 percent from present levels in the two units. Indeed, India's new coal plant emission regulations have fueled the adoption of this low emission technology. Reportedly, the regulation requires all utility boilers, captive and industrial plant boilers to amend their firing systems to manage NOx emissions.
Make an inquiry for purchasing this report @ https://www.gminsights.com/inquiry-before-buying/2990
Unveiling utility boiler market trends across Europe
The Europe utility boiler market is estimated to garner substantial momentum in the near future on account of escalating power demand in the region, along with robust energy conservation initiatives. Apart from this, the high-scale adoption of energy efficient power generation technologies will also significantly boost product demand. The European Union has introduced various schemes and initiatives to fast-track energy-efficiency investments. It has also issued the Energy Efficiency Directive which sets rules and obligations in accordance with EU's 2020 energy efficiency goals.
Earlier this year, InnoEnergy, Europe's sustainable energy innovation biggie, and RAFAKO, one among EU's biggest boiler manufacturers, have entered into an agreement where the leading Polish energy company acquired shares in InnoEnergy. Reportedly, InnoEnergy has fashioned many flagship European projects of the likes of Northvolt giga-factory based in Sweden. Other key players in the Europe utility boiler market are anticipated to follow suit with M&As and partnership strategies to enhance their market share and customer base, thereby boosting the utility boiler industry size.
Browse Complete Report Summary @ https://www.gminsights.com/industry-analysis/utility-boiler-market
The competitive landscape of utility boiler market is inclusive of a slew of prominent contenders such as Mitsubishi Hitachi Power Systems, Bharat Heavy Electricals Limited, Rentech, AMEC Foster Wheeler, Babcock and Wilcox, CMI, Siemens, IHI, Doosan Heavy Industries, A.C. Boilers, Thermax, ,Victory Energy Operations, and General Electric.