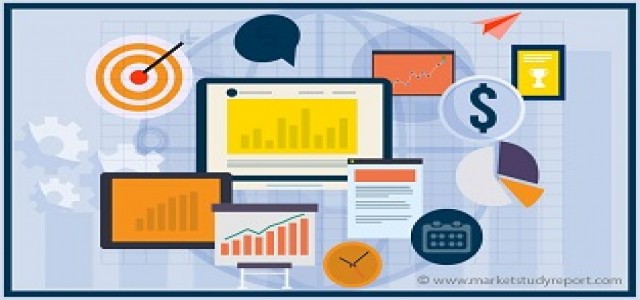 Thermal Imaging Market Research Report for the period of 2018-2024 that shows the growth of the market is rising at a Steady CAGR to 2024. Thermal Imaging Market is projected to surpass USD 10 billion by 2024. Technological advancements in thermographic imagery have led to the development of mobile solutions for numerous applications including surveillance, remote sensing, and space imaging. The performances of thermal cameras is based on their bandwidth and spectral sensitivity for a broad range of applications. The emergence and incorporation of communication interfaces have favorably impacted the user adoption, driving the thermal imaging market growth.
Request a sample of this premium report at: https://www.marketstudyreport.com/request-a-sample/1171788/
Due to the economic slowdown in recent years, most of the countries including the U.S., the UK, and France have been cautious with their military funding. Any defense budget cut may inhibit the growth of the thermal imaging market. In addition, the high cost of devices may deter smaller and niche application segments from investing in the technology thereby posing a challenge to the industry growth.
The development of thermography products with better resolution in high definition and smart intelligence capability offers their wide adoption across the application segments of security, surveillance and industrial temperature measurement. The UAV and drone thermal imaging market represents a huge potential for growth as consumers make use of drones for the home inspection of heat loss zones. The FLIR Vue is a dedicated core for the drone market.
The thermal imaging market is characterized by the compliance of these products with industry standards such as the National Fire Protection Association (NFPA) 1801 standard, the Ingress Protection (IP) rating 65,67 and the regulations imposed on the export of such devices including the U.S. International Traffic in Arms Regulations and the Export Administration Regulations (EAR). Such regulatory compliances ensure the device?s reliability and performance even under adverse conditions and prevent misuse and trafficking for illegal purposes.
Request a discount on standard prices of this premium report at: https://www.marketstudyreport.com/check-for-discount/1171788/
Scopes & vision goggles offer the flexibility of day and night time use even under adverse weather conditions such as fog or smoke. Riflescopes enable military personnel to read off the target?s heat signatures for the most accurate position decision. Most riflescopes feature several color palates for better visualization and are more expensive than the monochrome models. Geopolitical unrest and the need for technologically-equipped border patrol are expected to drive thermal imaging market growth for the segment.
Cooled cameras are more expensive and bulkier owing to the requirement of cryogenic cooling units; however, they provide superior imagery and are therefore are preferably used in life sciences, healthcare, special industrial detection, and automotive applications. With their superior sensitivity, the cooled camera is largely suitable for long-range imaging in low-contrast scenes. Nuclear power plants, airports, pipelines, high-security buildings, correctional facilities, and other sensitive areas also benefit from detailed imagery offered by cooled camera systems.
The Asia Pacific market is largely driven by the rising demand for thermal cameras in smartphones and the availability of low-cost imagers. The MEA thermal imaging market is expected to witness a sharp growth owing to the favorable infrastructure development trends and the rising demand across oil & gas industries in the region.
Key vendors in the thermal imaging market include FLIR Systems, BAE Systems, Raytheon, Leonardo DRS, Testo SE, L-3 Technologies, Seek Thermal, ULIS (Sofradir), and Fluke Corporation, among others. The difficulty in manufacturing and commercialization of accurate cameras, strict licensing norms, and export regulations has deterred new entrants from garnering market share. Product differentiation can be attributed as a part of the key business growth strategy.
Table of Content:
Chapter 1. Thermal Imaging Market Methodology and Scope
Chapter 2. Thermal Imaging Market Executive Summary
Chapter 3. Thermal Imaging Industry Insights
Chapter 4. Thermal Imaging Market, By Product (Revenue, Shipment)
Chapter 5. Thermal Imaging Type Market, By Technology (Revenue, Shipment)
Chapter 6. Thermal Imaging Market, By End-Use (Revenue, Shipment)
Chapter 7. Thermal Imaging Market, By Application (Revenue, Shipment)
Chapter 8. Thermal Imaging Market, By Region (Revenue, Shipment)
Chapter 9. Thermal Imaging Market Company Profiles
More Report At: http://www.openpr.com/news/archive/144590/marketstudyreport-com.html
Related Report:
Asia-Pacific Thermal Imaging Market Report 2017
In this report, the Asia-Pacific Thermal Imaging market is valued at USD XX million in 2016 and is expected to reach USD XX million by the end of 2022, growing at a CAGR of XX% between 2016 and 2022.
https://www.marketstudyreport.com/reports/asia-pacific-thermal-imaging-market-report-2017?utm_source=RR-SP
About Us:
Marketstudyreport.com allows you to manage and control all corporate research purchases to consolidate billing and vendor management. You can eliminate duplicate purchases and customize your content and license management.
Contact Us:
Market Study Report
4 North Main Street,
Selbyville, Delaware 19975
USA
Phone: 1-302-273-0910
US Toll Free: 1-866-764-2150
Email:[email protected]
Website:https://www.marketstudyreport.com
Blog: https://www.marketstudyreport.com/blog/